I was 18 years old and already had been having frequent sex. There was a mattress in the woods at city park where teens would go hang out and sometimes have sex at. I agreed to meet a man I met online and his friend there. The man claimed he and his friend were 25 years-old but when I saw them, I realized they were older and didn't look like the pictures, but I chose to go ahead and try two cocks at once anyways, since they were each paying me $50.
I removed my pants and underwear and laid on the mattress expecting they were just going to each fuck me separately. But they both laid on the mattress, flanking me. The guy to my right rolled me onto my side, facing away from him. He started kissing the back of my neck reached up my shirt cupping my small tits in his hand. The man I was facing reached down and slid two fingers into me. I closed my eyes and moaned, rocking my body against his hand.
Soon I felt the man behind me cock pressing against my ass check. He had pulled down his sweatpants but the rest of his clothes were on. The other man continued fingering me, then slid his fingers out as the other man's cock pressed at my pussy hole. I moaned as he slid in with ease. He moaned as well, still gripping my tits and nibbling the back of my neck. The other man pressed into the front of me, his cock also out of his pants. Tapping against my pubic bone as the other cock slowly slid in and out.
– She's pretty wet – stated the man who was fucking me. How long have you been fucking for? – he then asked me.
– About 5 years – I whined.
– Mmmm – he replied.
– Hold her still for a minute – the man in front of me said.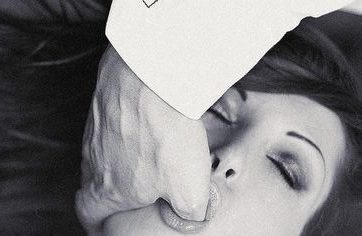 The man behind me stopped pumping for a minute and held my leg up. The man in front of me fumbled, sliding a condom onto himself.
He then gripped his cock and pressed it at my hole. The man behind me slid out about halfway
– Alright, now try – he said. The other man angled his cock, pressing it against the other man's shaft, and forcefully put it upward and into my pussy. I bucked and cried out: one cock was enough, but a second entering me was too much. My hole stretched and burned. I cried out again as he groaned, forcing his way inside.
– Hold still – the man holding up my leg grunted.
– God this feels so fucking good – the man sliding into me moaned.
Two cocks were now inside of me, each by about 4 inches. My thighs started trembling and I could feel my pussy contracting. They lay motionless for a couple min, and all I could feel was the pulsing of my pussy straining to accommodate those two cocks inside me. After a few moments, they started rhythmically sliding gently, back and forth. I cried out as they ignored my shouts and whines.
After about 15 minutes of moaning and thrusting, I could feel one of them further swelling inside of me.
– I'm gonna cum – said the man behind me. He began to thrust faster and the other man met his pace. They were both now forcefully ramming into my pussy.
– Fuck! Oh fuck! – one cried out. One cock pulsed cum inside of me, as the other with the condom on rapidly slid in and out of me and against the others softening yet pulsing shaft. It was only moments later that he came as well. I lay still while the men caught their breath, their cocks growing soft inside of me then slowly slipping out on after the other, followed by a pool of cum.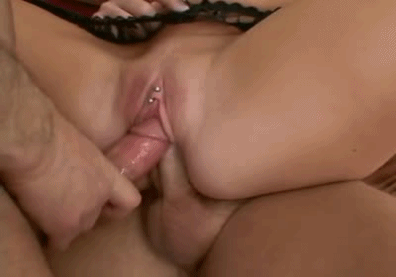 This was my first experience of two cocks in my pussy at once and to this day I still love it, it still stings/burns and takes a lot of angling to get 2 to fit in me.
Related posts