"GANGBANG!"
This is the one word my girlfriend blurts out when I ask what she wants for her upcoming 33rd birthday, her so-called Jesus year. An artist and burlesque performer, Alex is something of a bohemian, and as such I'm not expecting her to have her heart set on a trip to Paris or a Fendi purse. But the speed and gusto with which she delivers her answer stuns even me, an accomplished debauchee in my own right. I primarily write about sex, and yeah, I've done some raunchy stuff over the years. But I've never participated in a gangbang, let alone organized one. That, as I understand it, is what I'm being asked to deliver, less than three months from now.
"Let's do it!" I eventually manage to say.
Alex had a strong inkling I'd be agreeable. Since we met early this year, we've maintained a very loving, respectful, mature relationship that incorporates a lot of raunchy and rollicking adventures. I suppose that a gangbang is just going to be the latest and greatest; a natural extension of some of the expeditions we've already mounted.
I'm certain that Alex's taboo-busting desire comes from a good place. New York City therapist Dee Dee Goldpaugh says that whether they choose to enact them or not, women in her clinical practice who fantasize about gangbangs are seeking to subvert the sexual narrative with which they grew up; that women's pleasure is either secondary to, or a happy byproduct of, male pleasure.
"Women have often described a desire to participate in a gangbang because it symbolizes to them being empowered about their pleasure," she explains. "All participants are focused solely on making the woman feel good and fulfilling a fantasy. She is totally in control."
Or, as Alex put it: "They'll feel good too, but it's the Alex show."
She tells me that while she wants to be challenged by the get-together, she needs to be quarterbacking the affair. Sticking with that analogy, she wants to be the one deciding on plays in the huddle, calling audibles, throwing bombs, celebrating scores with high-fives and ass slaps. For a bohemian, I guess she's kind of a jock.
1. Onward Toward Banger Enlistment!
The next few times we get together, Alex and I talk about her soiree in the vaguest terms. But when I realize that her big day is a mere eight weeks away, I suggest that we sit down and talk about particulars. The first order of business being the number and identities of the participants who, in the parlance of the genre, are unimaginatively and reductively called "bangers."
Privately I'd been thinking that we'd need a total of at least three other guys, perhaps more given that I would be assuming the additional roles of party organizer and monitor. (A gangbang's monitor is the person responsible for ensuring that the center of the action, often simply called the "center," is comfortable, happy, and consenting to everything at all times.) I'd also surmised than any more than six or seven would be inviting an exponential increase of logistical headaches that I really didn't want to entertain.
"I think that five is about right," Alex says, and points to the five parts of her body she'd employ to engage everyone in the room.
"Perfect," I say. "So, who's on deck?"
"Well, ideally, I already know them," she says. "Better yet, I'd have been intimate with them, but that's going to be a stretch. Beyond that, they've got to be cool, respectful, sex-positive, and have bodies I can perv on."
To my intense relief, Alex confirms my spot in the lineup right away. She then names Gabriel, a go-go dancer friend with whom we had our first threesome back in April. Gabriel's inclusion is a no-brainer. He's someone we've already been intimate with; a known quantity, an old hand with abs for days and a truly remarkable schwanz. The third get is Adam, another performer with conspicuous musculature with whom Alex has had a close friendship for years, a friendship that has turned physical on a number of mutually satisfying occasions.
"Adam has a girlfriend now but I think they're sort of open," she says. "I'll ask him."
The person my girlfriend names next is a woman. This shocks me because I know Alex to be a dyed-in-the-wool heterosexual. Seeing the confused look on my face, she explains that she's already approached Kiki — a veteran kinkster and polyamorist — about the party and she's enthusiastically agreed to strap one on and be one of the bangers. "I just love Kiki's energy," she says.
Alex clarifies that she doesn't want any of the other guys to engage Kiki sexually and that we would all just consider her to be a fellow banger. Even still, I am privately titillated by the idea of one of our number being female.
We come to a standstill in terms of coming up with someone to fill the fifth slot, so we skip to a discussion on how Alex wants the night to unfurl. We talk location. I tell her that I'll get us a nice hotel room, which she seems excited about. We list her boundaries, safe words, and list the activities and combinations of activities she would like to take place. But in the same way that a band can't devise a set list if they haven't got a drummer, we table our planning until the sentient universe coughs up yet another fit, game, available, sex-positive guy.
A week later, the universe does exactly that.
Alex and I are at at the launch of high-end sex-toy manufacturer LELO's new "Hex" condom, when an athletic, sharply dressed Asian dude with a man bun approaches her. His name is Kenneth Play, a sex educator who had the previous year hired Alex to perform one of her acts at the Hacienda Villa: the Bushwick, Brooklyn sex-positive intentional community best known for sex-ed events and legendary parties. Kenneth is more than just familiar to Alex, he's a fan of hers.
"Y'know, he'd be a great fifth," says Alex. "He checks all the boxes and then some."
Later, when I ask him if he would join myself and some other folks in making my girlfriend's ultimate sex fantasy come true, he says, "I would absolutely love to! I love gangbangs. And I love Alex! Just let me know the details and I'll be there."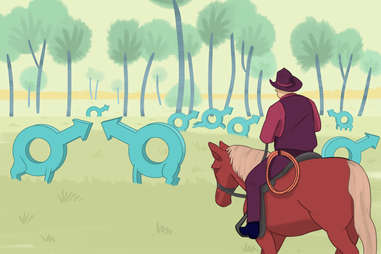 2. Honor the 30% Rule of Banger Wrangling
With Alex's dirty-dance card more or less full, the next step is to find a date within a week or two of her birthday that works for everyone. After some early back and forth, I propose a date in early September to the group. Kenneth and Gabriel are in. Kiki will be out of town for most of the month though, and Adam can no longer participate because he and his girlfriend have renegotiated the boundaries of their relationship. Peter, a good-looking friend who I've had sex in the same room as, enthusiastically offers to step up after I kvetch to him about the trials and tribulations that only a fledgling gangbang organizer can know. I run the idea past Alex, who is tentatively down. After a meeting over beers, she decides Peter has made the cut.
"I think four is fine," she says as we get into bed.
I agree in theory, but I still want to build in some contingencies in the event that one or even two of these guys aren't able to make it. After she reads a comprehensive guide to throwing gangbangs and absorbs its warning to overbook participants by 30%, Alex gives me the green light to cast a slightly wider net. I put in a call with Kenneth, who I feel certain must know some guys who'd fit the bill. Within a very short period of time, I'm included in a Facebook message group with Kenneth, Joe, Raoul, and Mac to discuss the prospect of joining up.
"I've never met these guys," says Alex as she pores over these pinch hitters' shirtless Facebook pics and counts up their numerous abs. "But if they're friends with Kenneth and have a sex-positive outlook and plenty of experience, I'm down with all of them." With Gabriel and Peter's permission, I add all seven bangers and Alex to the Facebook message group and all voice their enthusiasm for the upcoming event.
"Wow," says Alex. "This is really going to happen now."
3. Vibes, Gear, and Sundry Final Preparations
With the realness of a seven- or eight-person sex event becoming evident to the both of us, I begin searching for an appropriate venue, and get a primer in just how expensive New York City hotel rooms can be. But then suddenly a room I've been coveting at a hotel in Williamsburg drops in price by $200 and I book it.
Alex and I get together to compose the Facebook message I need to send to the other six bangers 72 hours ahead of the party. It details the location, the time everyone needs to show up (9:30pm), what will be provided (condoms, lube, water, soft drinks, beer), what the guys should bring (a towel to shower before and after the event, their preference of condom, lube, or beverage), what Alex's desires, boundaries, and safe words are, and the general vibe of the evening — which is compassionate, reverent, yet robust slut worship.
But not all of the participants' thumbs-up emojis bounce back in response. I can't help but be annoyed when Peter, my closest friend within the crew, bails with just 48 hours to go. In a separate text he tells me that he thinks that one of the incision scars from a recent abdominal surgery looks infected.
"It's better that he bail now," says Alex. "I don't want a dude's guts coming undone at my birthday gangbang. Besides, six guys is still plenty."
4. Coping With Opening-Night Jitters
It's Monday morning, the day of the gangbang. Alex and I haven't been up long when we hear both of our phones sound the Facebook message notification in unison. A harbinger of another drop-out, we'd feared that bright little ping all weekend. Alex looks at her phone first and confirms that Mac, a firefighter who makes the cast of 300 look like poster boys for dad bod, is sending his regrets. He has to be at the firehouse that night. So now we're five.
Alex and I check into the hotel around 3:30, and agree that the king room with unobstructed floor-to-12ft-ceiling views of the Manhattan skyline is ideal for our purposes. For an hour or more we loll around in the way that a stylish hotel room provokes one to loll. I take a few pics of Alex's naked lolling and share with the group.
Later we head to Whole Foods, a liquor store, and CVS with a list of essential gangbang birthday party supplies. This includes plastic cups, cupcakes, cut fruit, tea tree oil, beer, tequila, water, and vitaminwater. We head back up to the room, trying and likely failing to disguise from the hotel staff the fact that we're hosting a get-together.
I busy myself with putting the finishing touches on the party's Spotify playlist. I've gone with a mix of current upbeat electro sounds, similar in feel to the stuff we usually get it on to. Then I futz with the lighting and strategically place condoms, lube, wipes, and black latex gloves around the room so that they are in easy reach for everyone. Alex administers the first of several rounds of enemas, then showers, dances barefoot and butt-plugged across the polished cement floors, and puts on makeup.
With 45 minutes before the guys are scheduled to arrive, Alex expresses — for the first time, mind you — that she's experiencing some nerves at the thought of having sex with a car-load of dudes, two of whom she's never laid eyes on. We cuddle and I tell her that I'm with her every step of the way and that she'll be amazing. At her request, we quickly cycle through all of the kinds of sex as another sort of preparatory measure ahead of the big event, then I take the drinks and fruit out of the fridge and set them up. Alex and I both sip tequila on the rocks, a tradition that we take part in right before we embark on any envelope-pushing adventure. Then we wait.
5. The Main Event
At 9:29 our phones ping in concert. All four boys are in the lobby, which is handy as I only have to make one trip down to fetch them all. I greet them all warmly, particularly Kenneth, who has almost certainly saved the day by rounding up a small posse at my behest. In addition to being extremely punctual, everyone is smiley, personable, eager, earnest, and forthright. They each ask me about how Alex is feeling on the short elevator ride up to the room.
The five of us enter and find Alex looking small on the white expanse of the king-sized bed, kneeling, wearing nothing but a rose-pink hooded sweatshirt. She hugs everyone and while Gabriel takes a shower, the other boys take a seat and ask Alex to reiterate the experience she'd like to have. Her answers are met with excited smiles and nods.
"This is what my colleague Effy Blue [an ethical non-monogamy coach] calls BIDding," says Kenneth. "Stating boundaries, intentions, and desires. A boundary is something you don't want to do, like 'no slapping' could be an example of a boundary. An intention is a big-picture plan for the the party. So 'I want to be the center of attention and call the shots' could be an intention. Desires are concrete things you want to do. 'I want to be airtight' might be a desire.
"It totally is," says Alex, who then reiterates her vision for the evening.
"Are you nervous?" asks Joe who is 6'5″ and looks like a Celtic version of a Dothraki horse lord.
"A little," she says.
Admitting nerves just seems a novelty for the woman I've always seen as a consummate badass, and in that moment, I want to dismiss all the other dudes and just hug her all night long. But Raoul, who has the lean and lithe physique of the pole performer he is, has a better idea.
"Well how would you feel about an eight-hand massage to get started?" he says, and beckons me over to the bed where they now perch to join in.
It immediately becomes clear that the three Hacienda boys have worked as a team before and it's not long before Alex's nervousness dissipates completely. Toweled off and swinging, Gabriel emerges from the bathroom, grabs a container of fruit, and feeds Alex a piece.
"Oh my God, this is amazing!" says Alex, laughing. Even though the night is just beginning, I get the sense that it's going to be a roaring success.
It's worth mentioning at this point that, if you're the jealous type, being asked by bae to join some dudes as they simultaneously fill her every body cavity is something of a tall order, birthday or not. I know that because, when I was in my 20s, a much tamer request would have made my head explode. My 30s, however, have been a time of feeling increasingly comfortable in my own skin. I chose to relinquish feelings of insecurity and have since gained an ability to celebrate and even help realize my partners' fantasies.
Therefore, to see Alex beaming and laughing throughout the evening makes me very happy. Many of the highlights are a little too choice to detail here but the big-picture view is that her expectations were exceeded (as were mine) and she got on with each of the participants famously.
After each of us shower, the other boys stick around for some post-bang analysis and note-sharing. When they leave, Alex and I have a post-gangbang bang of our own and shower. It's now after 1am, and we set out on the empty streets of Williamsburg in search of food.
"Crif Dogs is still open," I say to Alex, referring to a local hot dog place.
"Sure, what's one more wiener?" she says.
6. The Postgame Analysis
After a day of internally processing what had transpired, I ask Alex all about her experience and am delighted to hear her responses.
"It was almost unrealistic that these five hot bods — who all knew exactly how to make me feel good in their own way — would be such total sweethearts," she says. "But the best part had to be when I made you all stand in a line and helicopter for me at halftime."
I can understand why a lot of men reading this might feel that serving up a crew of fun, hard-bodied sex wonks to my girlfriend is something of a gamble. And yes, on a subconscious level I suppose I did harbor deep-seated anxieties about her experience with one or more of them being so mind-melting that it could dislodge what she liked about me or even become an unflattering point of comparison. But that didn't happen. In fact, because the birthday girl's experience was our sole focus, the evening took on the atmosphere of a Skillshare session and became a successful experiment in socio-sexual collectivism. I certainly feel that I learned some things about sex, but I also learned that making the dreams of someone you love come true is every bit as powerful an endowment as rippling muscles. Or masterful technique. Or a penis like a prize-winning plantain.
Sign up here for our daily Thrillist email, and get your fix of the best in food/drink/fun.
Grant Stoddard has written for New York; T: The New York Times Style Magazine; Vice; Playboy, and BBC Magazine. He's the author of a memoir entitled Working Stiff: The Misadventures of an Accidental Sexpert, and co-author of sex guide Great in Bed with Dr. Debby Herbenick of the Kinsey Institute.