Movie Type: All Sex
173 Mins
Blacked Raw
2023
WEBSITE: BlackedRaw.com
CONDOMS: No
THEMES: Interracial Sex, Threesomes, Big Cocks, BBC,
STARS: Anton Harden, Armani Black, Elisa Calvi, Jamie Knoxx, Jax Slayher, Jonathan Jordan, Joss Lescaf, Katie Kush, Kylie Rocket, Maitland Ward, Mazee, Penny Barber, Richard Mann
REVIEW-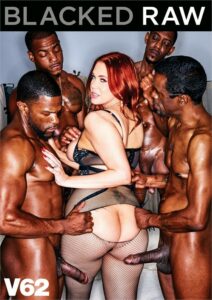 This movie delivers everything you expect from the series. It's another nicely shot, dark around the edges IR flick with four hot scenes. What it has to make it stand out is one very big highlight scene. Everyone's favorite XXX thespian Maitland Ward shows off her super slut chops in an opening gangbang that is sure to turn some heads. She pulls out all the stops in the opening scene, taking on all comers and opening up every hole. This is a really high-energy scene where she also looks fantastic. One of her best to date and certainly a can't miss. If you only need one great scene to grab a movie, you have it here. If you haven't seen Maitland in action, you are going to love this one. Elsa Cavali stars in the finale and this one scores big points for fans who like women speaking French. Basic set up and scene with a very attractive young woman getting power fucked by a hard dick. In between, there are a pair of nicely done threesomes. Both feature a pair of hot women getting banged by a lucky stud. Katie Kush & Kylie Rocket are a pair of best friends who have to improvise when their plans go south. They settle on sharing a huge black cock as a very solid plan b. Nicely done three-way action here. Penny Barber and Armani Black are the other pair who share. Though it is Penny's idea originally, her sexy friend Armani steals the show with good looks, a great body and fantastic sexual energy. This is a good movie with one obvious can't miss scene from one of the biggest stars in the business, so don't miss it.
Maitland Ward
On tour for a book signing, Maidland Ward is horny, but tired. She calls her man who tells her to get some sleep and maybe they can play in the morning. Tired wins out over horny as Maidland is asleep before her head even hits the pillow. In the next room, Richard Mann and his friends are just getting in from a night at the club. This wakes her up and she decides to crash their party. She looks great and they pick up on her aggressive vibes. With hands all over her body, she makes it very clear what she needs to cap off her long day. The guys take out their cocks and surrounding her. Maitlnad responds with an open mouth as she aggressively seeks out meat to suck. They bend her over a sofa so that Richard can fuck her pussy while she takes turns sucking his three friends. They move to the bed where she can get comfortable and they can stroke her long and hard in mish. If you like heels and fishnets, enjoy the view because she fucks them with these items still in place. She has plenty of energy for all four guys and gets deep stroked by some very large dongs. They do not ignore her backdoor either. Maitland rides her with a bone in her butt and even reaches around for some ball tickling. The anal action is really good here and lasts quite a while as the guys take turns knocking on her backdoor. They start shooting loads into her ass, giving us some anal creampie action before the big facial finish. Maitland gets on her knees and takes some really big loads on her face. The finish to this scene is really fucking hot and should be on her end of the year awards highlight reel proving she can do more than just act.
Katie Kush Kylie Rocket & Anton Harden
Kylie Rocket and Katie Kush are ready to go out and have some fun. Their plans get canceled so they call Anton over to go for a super sized plan B. He shows up right away and the girls toss him on the couch to get at his impressive pole. They share a hot double BJ for a painfully short time before taking turns getting railed by Anton's monster. Nice shots of the girls helping one another take it, especially from behind. They both have nice thighs and asses and are a lot of fun together. The women work well together in this scene, playing with each other and keeping the action rolling as he moves from one to the other. Either would be hot individually, but they way they work together and the way the scene is shot, makes it so much hotter. They finish up with a creampie that gets sucked out and a big cum swapping kiss.
Penny Barber, Armani Black & Jax Slayher
Armani Black is ready to head home, but her friend Penny Barber is hitting it off with Jax. They can't seem to agree on the next step for the evening. Jax certainly has a preference and they end up going back to his room to share a big chocolate dessert. For someone who was hesitant at first, Armani certainly doesn't waste any time before getting his dick into her mouth, Penny gets naked and joins her friend for some hot double BJ fun. They all move to the bed so the oral fun can continue. Armani slides her body up his and drops her pussy on his cock. With her friend watching, she enthusiastically drops those hips until every inch of Jax is buried inside of her. Penny takes her turn and gets spanked by her bestie for good measure. They are having fun together and the eye candy is really good, especially when Armani has her ass up in the air for some doggy. He finishes off with a shot on Armani's brests that the girls lick up and share.
Elisa Calvi
Not much set up for the finale. Elisa Calvi sets up a late night rendezvous with Joss. The video call features dialog in French if that happens to get you going. His hands between her legs get the motor running and the juices flowing. The blowjob is pretty short, but I think seeing her bends over holding herself open just might make that part all right for most viewers. They break up the fucking with more BJ footage in between positions. He flips her over and holds her foot to his chest while she rubs her clit. Really gorgeous shot here that includes the penetration and her natural bouncing boobs. Speaking of boobs, she wraps her funbags around his cock for a good bit at the end. That pushes him over until he shoots all over her chest. Elisa then sucks out the last few drops until he is completely drained.