Valentina Nappi in This Party's Boring for Brazzers.com
Posted on May 28th, 2023
Valentina Nappi in This Party's Boring for Brazzers.com
Movie Type: Vignette
47 Mins
Brazzers
2016
WEBSITE: www.brazzers.com
CONDOMS: No
THEMES: Threesome, Cheating, Anal Sex, DP,
STARS: Valentina Nappi, Jessy Jones, Xander Corvus
REVIEW-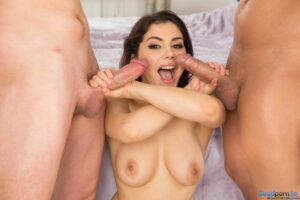 This scene features a couple of minutes of naked tease from Valentina Nappi before the story kicks off. Great looking stuff here and it certainly puts us in the right mood to see Valentina work her magic. Valentina and her husband arrive at a party. She looks stunning, but is immediately bored as three couples play charades. Trying to liven things up, she does an obscene version of a picnic and offends the women in attendance. While Valentinais collecting her shall to leave, Xander follows her upstairs. She suggests they have some fun together. After half a second of hesitation, he buries his face between her cheeks. Returning the favor, she gives him fantastic eye contact while sucking his cock and licking his balls. He fucks her tits and having a great time, but is a little worried about getting caught. He puts her on the bed and starts fucking her. If she is worried about getting caught, you can't tell from how boisterous she is in her praise. Xander goes deep and seems to fuck her harder every time she tells hi how big his dick is. Things are going well when Jessy comes up to check on his friend. He finds Valentina riding hard and begging for Xander's dick in her ass. Jumping in, Jessy provides the second cock for the DP. That is exactly what she needed to liven things up and the footage of Valentina being double poked is absolutely gorgeous. She stops and kneels on the bed to suck both of their cocks. Fantastic looking footage that only could have been hotter if it lasted longer. She flips over, gets warmed up with a few strokes of Xander in her ass and then invites Jessy in to stuff her pretty pussy. Great view of the action and her spectacular body. Moving her around on the bed, the guys full her at both ends, fucking her until her boobs are dancing beautifully on every stroke. Turning back to DP, they have her double stuffed and loving it. There is a bit of spanking here, some hot over the shoulder eye contact with the camera and even a bit of a gape shot. The anal and DP action is perfect, hot and gorgeous, just like Valentina herself. With her holes properly fucked, she knees between her two new friends and waits while they off on her face. With such a gorgeous face as a target, you just know this double blast is going to be special. And special it most certainly is. Hot from start to finish this scene is anything but boring.