Electra and the Cocksmen don't waste any time once she is up on the pedestal. Her gangbang starts with her tight blue dress already hiked halfway up with Chris rubbing her pussy and Randy feeling her boobs.
The dress doesn't make it even a minute before Electra is naked and surrounded by her FIVE COCKSMEN. The first topic of conversation is her natural, full bush before Will decides to claim his GUESS THE V win and be the first to dive into it. All the Cocksmen make their first push in Electra's bush in missionary before she gets flipped over to get spit-roasted (her favorite) between Will & Randy and some other Cocksman combos. It seems none of the Cocksmen can resist rubbing up on Electra's awesome natural boobs while she is on her hands and knees. Her blue piercings make her nipples stand at permanent attention at their peaks. Scotty makes Electra cum first while she jerks Will off in her hands. Her pussy is so good, Scotty forgets the camera is behind him and gives it an unintentional kick! All is well, though, as Randy takes over behind Electra as she notices the camera overhead. She gets off on looking into it as she is fucked and strokes off all the dicks around her. Her hood piercing dangles and swings and her toes wiggle as she gets Denmark dick from behind.
Next it's time for some rides as Electra hops up on Scotty in cowgirl before switching to reverse on Randy. He says he can feel her bush tickle his balls as she bounces up and down on him. Will puts her across the bench on her back so Chris can put his cock down her throat upside-down from the other side. The position nearly becomes an entanglement before the action moves to the floor. Scotty fulfills his New Year's resolution to be the first one to cum in the girls more often as he gives Electra creampie #1. Now that her pussy is well-lubed, it's time for some DOUBLE VAG, Electra's first on-camera! Randy and Chris double-stuff her first before the rest of the Cocksmen give it a whirl. She flips over in reverse to restart the rotation and Randy gives her creampie #2 while still in DOUBLE VAG. Chris pounds it in good solo with Electra in plank before dumping his own load #3 on top of it. Rex turns it into a lightning round as he piles creampie #4 into Electra, making her pussy a cum-filled mess. There is still one more load to go, though, as Will paints her face with his own special blend of baby batter. Electra lays back with her legs spread to show off the gooey loads still inside her as her FIVE COCKSMEN surround her for a final photo op to send to her partner. This lady has far too much energy for just one gangbang.
Kaiia didn't feel the need to get fully dressed again for the start of her gangbang. She just has her loose "I'm here for the gangbang" tee on and her head hung over the edge of the pedestal. Her SIX COCKSMEN take full advantage of having that head at BJ height and quickly form an orderly line. The Cocksmen on the other side reach up that loose tee and fondle Kaiia's natural boobs as she continues getting warmed up. Fresh off his GUESS THE V win, Rex dives into Kaiia's blonde pussy first to remind her why she loves dick so much. The first of many SQUIRTS results from his thorough initial pounding of her pink bits, but Kaiia keeps the squirt coming as the Cocksmen all take their first turns inside her.
After nearly getting into some of what we've started to call "entanglement" poses, Kaiia hops up on Scotty for the first of several rides on the bench. Listen for the sloshing noises as she continues to squirt all over. Since the pedestal turned into a Slip-N-Slide, it became safer to move the action to the floor where Kaiia could indulge her DOUBLE VAG fantasy. This is only the second time she has ever had two cocks in her pussy at the same time. Chris and Scotty double her up first with Nacho in her mouth to make her AIR-TIGHT. Rex & Randy rotate in for some different D.V. combos before Kaiia flips over so she can watch two dicks go in her pussy at the same time. After a brief hydration break (remember all the squirting she's been doing), Kaiia hops back on Randy up on the bench for her first creampie as she gets D.V.ed. Kaiia goes planking on the floor next before Chris decorates her pussy with load #2. The 'pies start dropping rapid-fire as Scotty, Rex, Nacho, & David all shoot their loads in Kaiia for five back-to-back creampies, rounding out an exceptionally full gangbang (not to mention how full of multiple cocks Kaiia was most of the time). What could Kaiia do to top this performance if she comes back for a second round?
Released:Dec 02, 2022
Studio: Aziani
Length:2 hrs. 30 mins.
Categories:Alt Girls, BBC, Big Dicks, Big Tits, Blowbang, Blowjobs, Creampie, Cumshots, Double Vaginal Penetration, Gamer, Gangbang – M on F, Group Sex, Hairy, Interracial, Interview, Naturally Busty, Oral, Piercing, Popular with Women, Tattoos
Scene List
for Gangbang Creampie: Gamer Girls DV Edition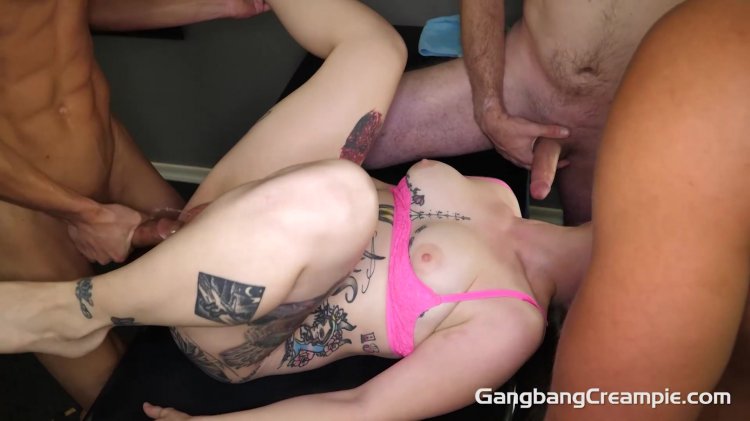 1 h 20 min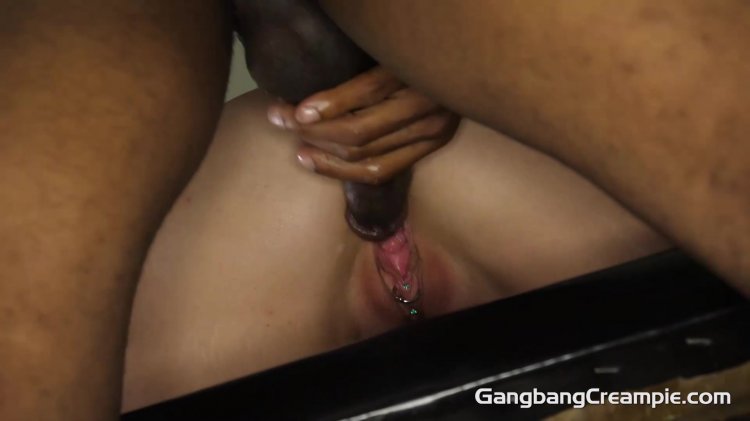 1 h 9 min